The world has changed this year, a year none of us will ever forget! Here in Australia we started January with the most devastating bush fires this country has ever seen and then of course, by February, COVID-19 effected the world. Eight months on, we are going through our second surge in cases here in Australia with some States back in lockdown and State borders shutting almost as quickly as they reopened. 
So how about this? To lighten the mood and take our minds elsewhere, I have come up with a fun and no stress art challenge. And all you have to do is enjoy yourself! Sound good?
Here's what you need to do:
• download the seahorse pdf (below)
• watch the video for some inspiration & how to transfer        
   template onto paper or canvas (below)
• choose your art materials you are going to work with
• complete your seahorse and share with Mrs Red
It wouldn't be a competition if there wasn't a cool prize now, would it? Mrs Red has bundled together a mixed media pack of different art supplies so you are ready to continue on your artistic journey!
Prize includes:
• Art Spectrum Draw & Wash pad
• Faber-Castell Polychromos 
  coloured pencil set
• Jo Sonja's mediums starter kit
• Uni-ball Signo gel pens
• Mont Marte brushes
• Micador Stay-anywhere 
  drawing pens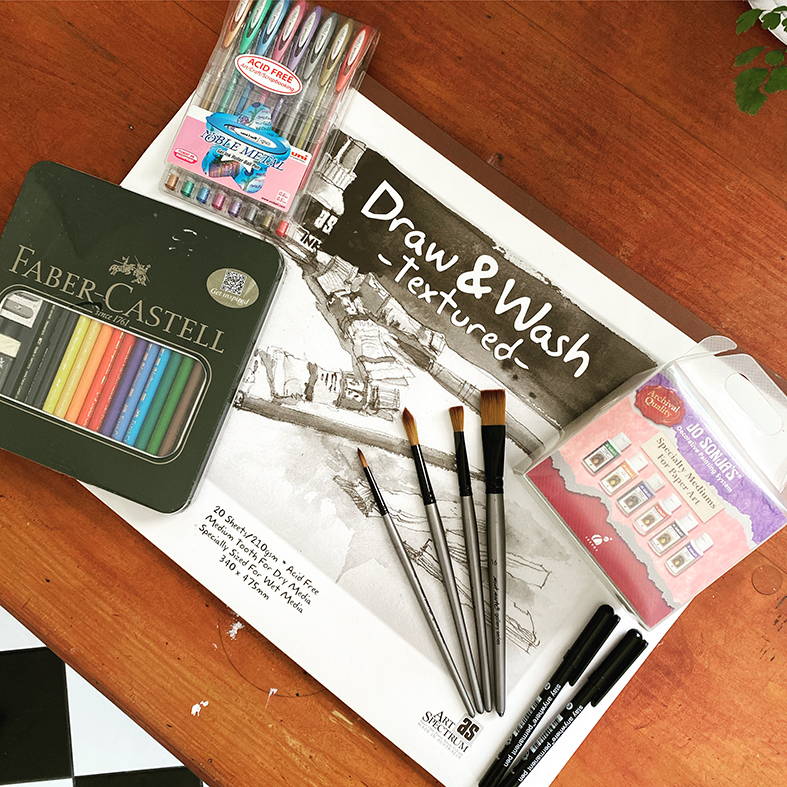 Watch this video for inspiration
This video was created back in 2017 for a student version of a subscription art box. The cart is no longer available however the video will show you how to easily transfer a tracing of the seahorse template onto your art paper or canvas. And then if you want to see Mrs Red use watercolours, a straw and pens then keep on watching. Don't you just love the yellow glitter nails!!!
Choose your art materials
What art materials you use is entirely up to you. Nobody has to go out and purchase anything if you do not wish too. Use what you have at home but if you want to try something new, then go for it! 
The template is A3 size and Mrs Red would love everyone to keep their seahorse at this size however if you go smaller because of printer limitations etc then that is not a problem either. BUT.... you must use this seahorse template to be entered into the competition for the art pack.  
Some mixed media ideas:
• Watercolour and drawing pens (as per example)
• Acrylic paint and mediums (like Liquitex Glass Beads)
• Tissue paper collage
• Gouache and paint pens
• Brusho and drawing pens
• Pastels and paint
• Old book pages, washi tape and glitter glue
As for your surface, that will depend on your media. For example, if you choose watercolour and pens, then a smooth watercolour paper is best. If you decide on acrylic paint and mediums then a canvas is idea.
• Anybody from any country can enter, however the prize can only go to an Australian resident. 
• There is no age restrictions however I really really really want to see adults entering. Remember, this is a light 
   hearted, no pressure, fun art project. Times have been tough, take some time out and enjoy yourself through 
   this process.

• You must use the seahorse template provided
• Once completed, take the best photo of your artwork you can and email create@mrsreds.com.au
• Multiple entries are acceptable
• Competition closes 11.59pm 30/09/20
• Winner will be drawn on Wheel of Names and filmed so I can share properly. Next competition, I will have a public vote for the winner. Its all about having a go and enjoying yourself, not creating masterpieces!
• Share your artworks on your socials! Please remember to tag Mrs Red and use these hashtags: 
  #mrsredsartroom 
  #mixedmediaseahorsechallenge