Handmade Candy Cane Teachers Gift 
for end of year and Christmas!
It's that time of year again in Australia when busy parents have to think up something for their children to give to their school teachers as a Teachers Gift, for all the hard work they have done throughout the year with their children. And really, how many boxes of chocolates does any teacher need?

Mrs Red has come up with a unique and very practical teachers gift that they can actually use and save a bit of money at the same time. I'm pretty sure this candy cane teachers gift is going to get every teachers approval plus a little bit of teacher envy at that same time from the staff room!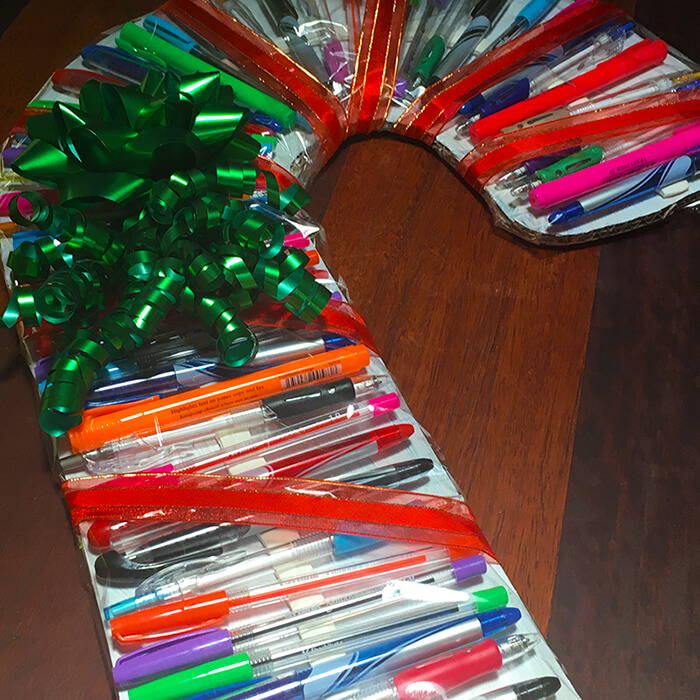 A candy cane teachers gift made of pens and blutac!
This candy cane teachers gift cost me about $34 all up with $29 spent on the pens and blutac and $5 on wrapping. The pens I purchased were not the cheapest nor were they expensive and I put a mix of coloured, traditional red, blue, black and the all-important highlighters. The main thing with choosing your pens is that they need to be similar thickness and length, otherwise I think the end result won't look as effective.
What you need to gather for the Candy Cane Teachers Gift:
• A stack of pens
• A whole pack of blutac (I found white at Officeworks)
• A sheet of newspaper
• Large piece of thick cardboard
• White acrylic paint and large brush (optional)
• One sheet of clear cellophane (75 x 100cm)
• Ribbon and bows for decoration
• Sticky tape, black marker, pencil, stanley knife and scissors
Creative instructions for this Candy Cane Teachers Gift!
Layout your sheet of newspaper and arrange the pens into a candy cane shape. When happy with the shape, take your black marker pen and trace around the outside of the pens, then cut this shape out. This becomes your candy cane template.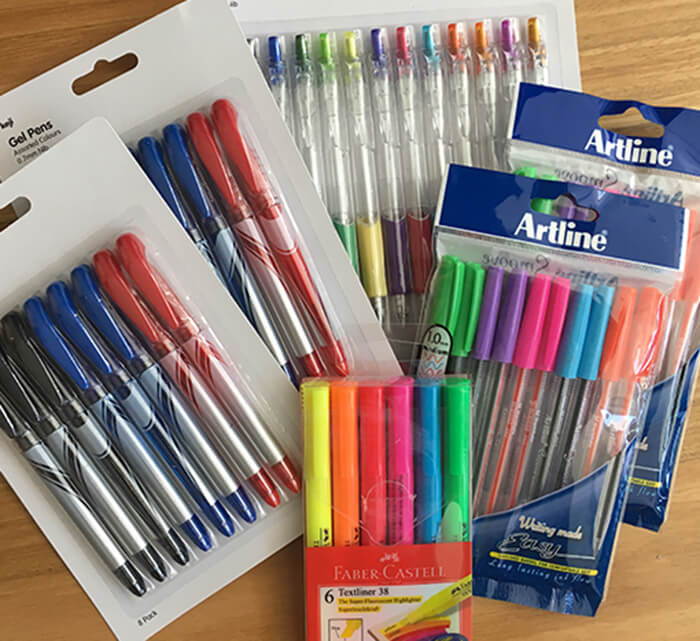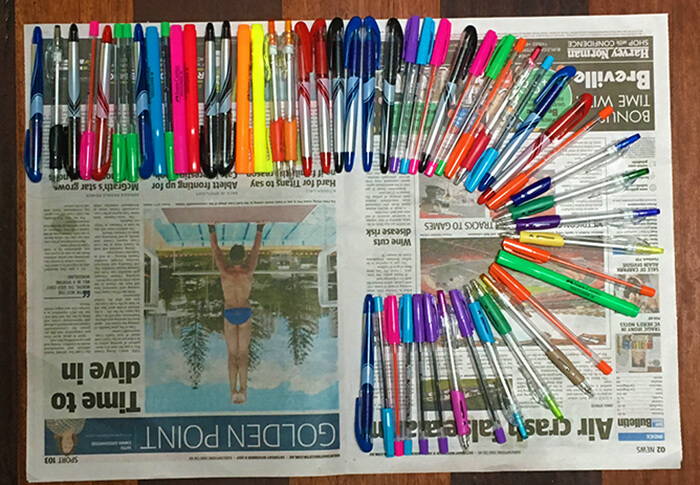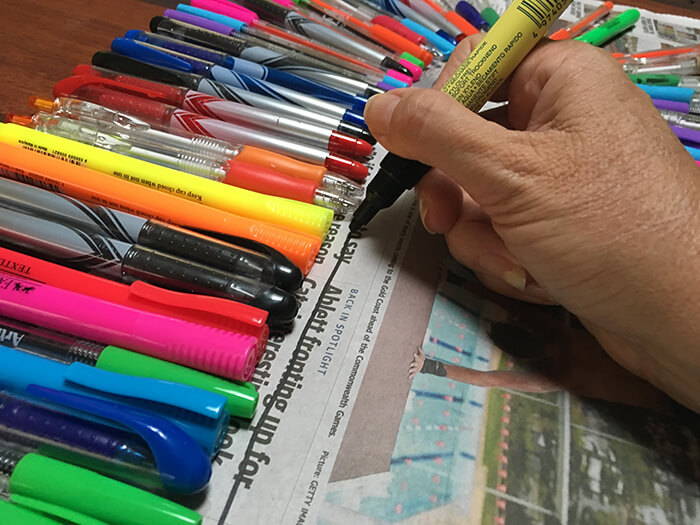 Take your template and lay it on top of the thick cardboard and now trace around it with a pencil. Best not to use marker pen for this as cutting the shape out of cardboard is difficult and you don't want to see bits of marker pen around the edges.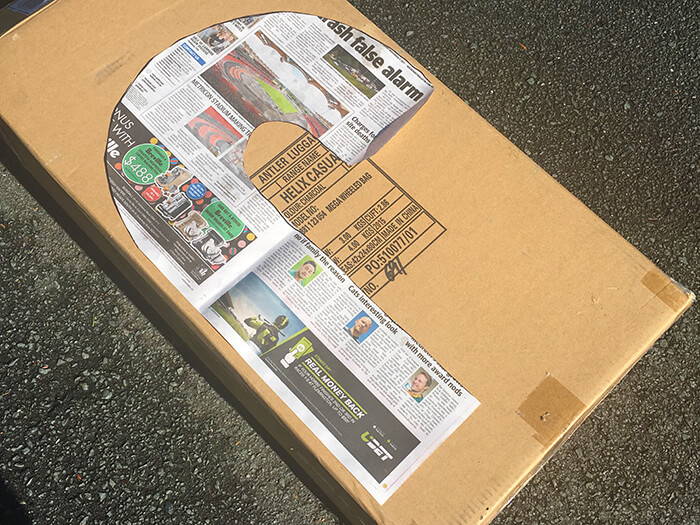 Now it's over to an adult to use the stanley knife and cut out the candy cane base. You can neaten the edges up with scissors afterwards if you have made a bit of a hack job of it.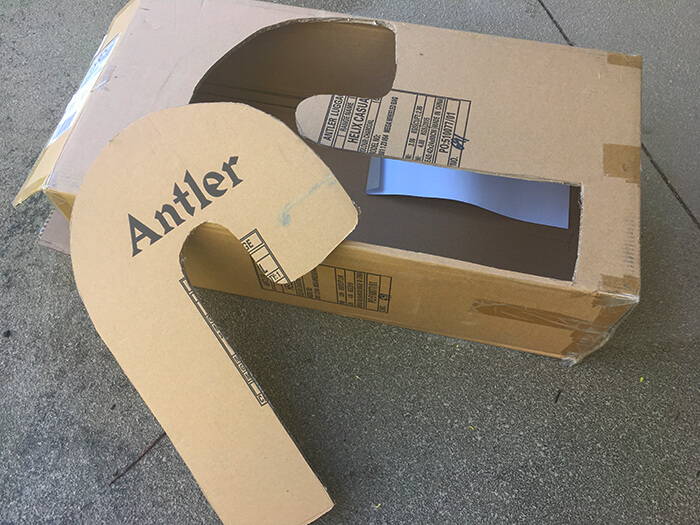 If you wish, paint the top side of your candy cane with white acrylic paint. It wasn't really an option for me, even though 'Antler' is kind of appropriate for this time of year, I still did not want the luggage brand name being seen.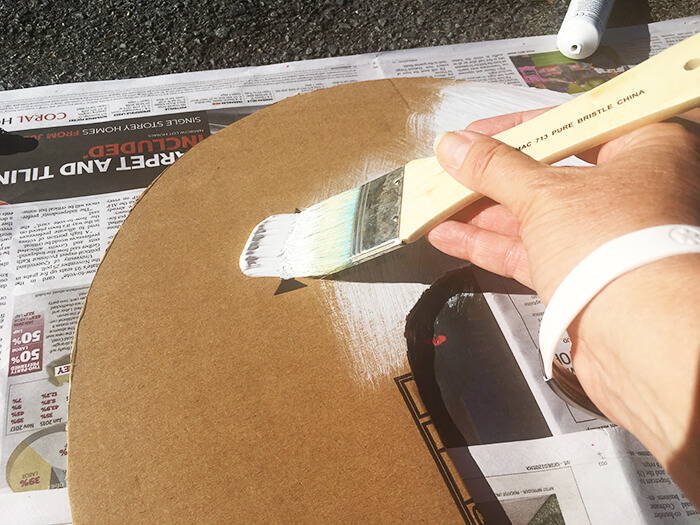 Once the cane is dry, get the blue tack out and stretch throughout the centre of your cane as this is what the pens will stick to (and they stick well).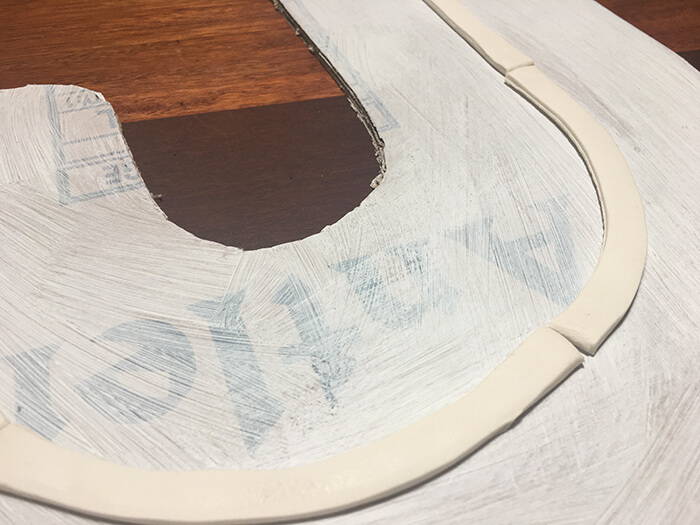 Then begin by laying pens out with big even spaces and slowly make those spaces smaller with more pens. Don't press them into the blutac yet as you may need to move them around a little for even spacing. Once all laid in place, gently apply pressure in the centre of the pens so they adhere to the blutac.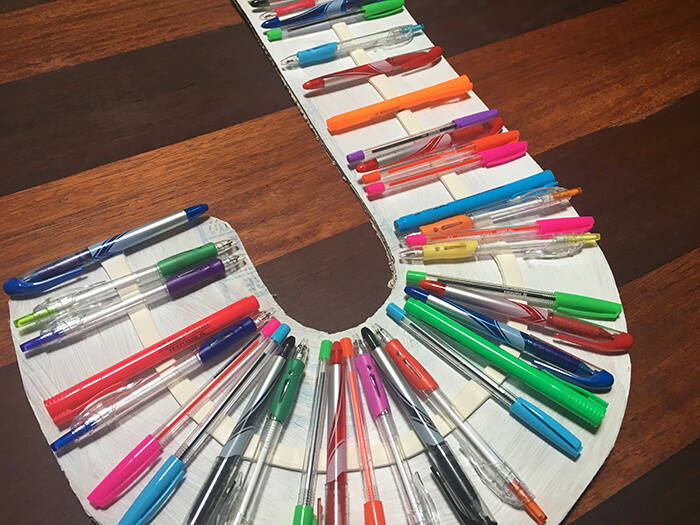 This is where the fun really begins, not! I did not photograph wrapping the candy cane as I was figuring it out as I went. However, I did use only one sheet of cellophane and only had to cut a small section off. Lay the cane down with all the pens onto the cellophane and then I made a cut up the centre and gently wrapped it all around and stuck it down with sticky tape all over the back. Use as much sticky tape as you want because cellophane tears easily. Again, adult help may be required here. Then if you choose to use ribbon as I did, wrap it around and stick more tape at back of cane and then place any further decoration on front of cane where you choose.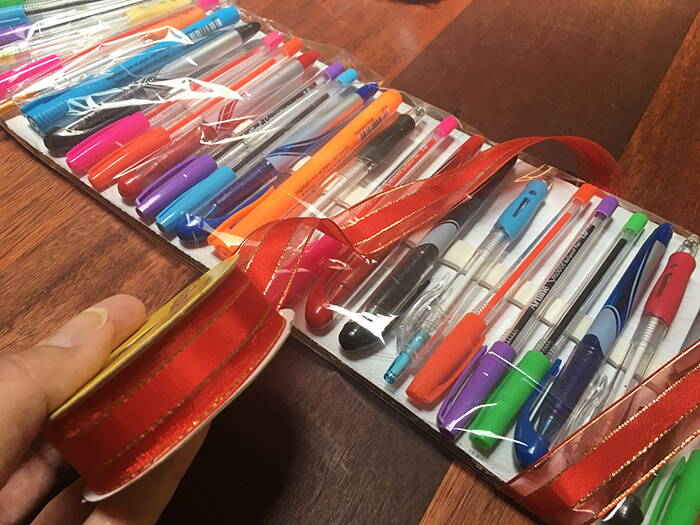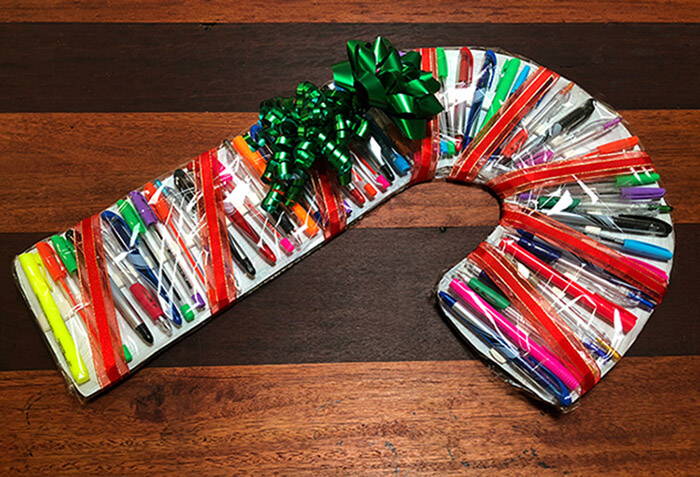 The only thing left to do now is get the kids to make a handmade card for their teacher and stick it on front of your pen candy cane!
This whole project took less than an hour to do and apart from the cutting of cardboard and possibly the wrapping of the cellophane, the kids should be able to do the majority of this project themselves and what a fantastic gift to give! Better than a box of chocolates, don't you think?
Make sure you send me photos of your candy cane teachers gift either on social media, which you can find at top of this page or via email at create@mrsreds.com.au
Mrs Red
x