Gelli Print & Doodling Bookmarks
What the heck is Gelli printing, I hear you say? It is definitely a printmaking method but unlike lino and rubber, you do not carve into the Gelli plate. The Gelli plate is made with mineral oil and is a hypoallergenic polymer material. There is no gelatin or latex in the materials. It feels like jelly in your hands and can be damaged quite easily because of its soft and flexible feel.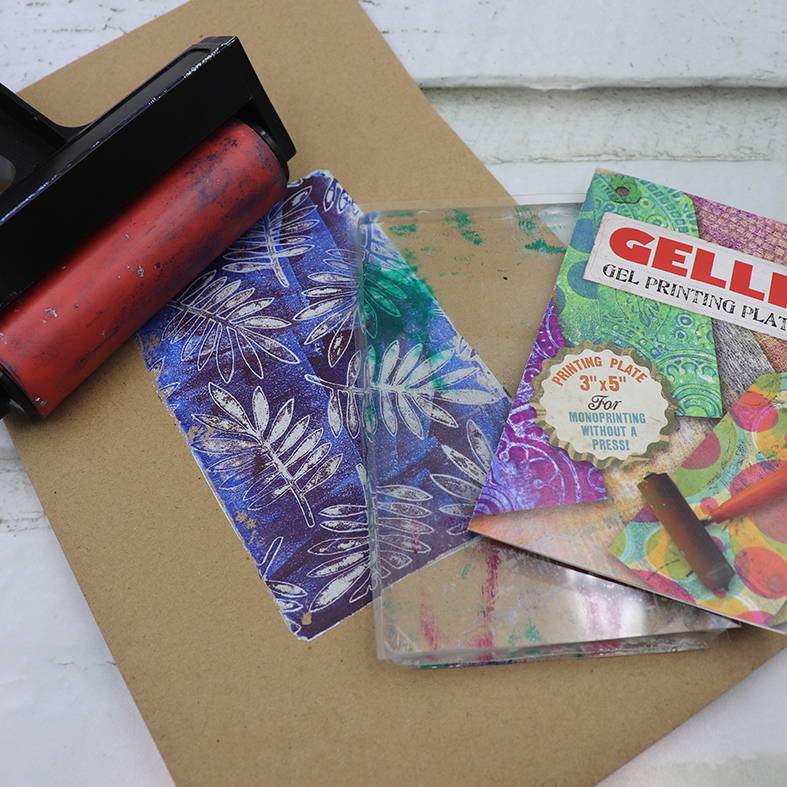 Gelli printing is a form of monoprinting, which means that you can only make one print which is great because every Gelli print is unique and individual. The plates wash in warm water and can be used time and time again as long as they are kept flat and dry whilst not in use. Always keep your Gelli plate inside the plastic container it comes in, to be sure that it doesn't get damaged.
So what type of paint can you use on a Gelli Plate?
Gelli Arts recommends acrylic paints be used on your Gelli plate. You can use printmaking inks, such as Speedball Block printing inks and other printmaking brands. You can also use oil based paints however it is best they don't sit on the plate for too long because the plate being made from a non-toxic mineral oil, the oils in the paint or ink can soften the plate. Plus, it is very messy to clean up. Using water based inks is so much more fun!
The story behind these Gelli Print & Doodling bookmarks.
Now that I have explained what a Gelli plate is, its time to see how it can be used! As it so happens, a group of my swimming buddies and I decided we needed to be more accountable for reading more often and we decided to form a book club. To be honest, any excuse will do for a social get-together. We planned a High Tea to get things rolling and gathered at Teavine to discuss the finer details (and drink champagne whilst eating dainty little sandwiches and bite size sweet pastries). What I didn't tell the book clubbers was that I had made them all a bookmark, complete with a little handwritten message on the back of each bookmark, welcoming them to the B.S.Book Society (which stands for Burleigh Swimmers Book Society, ha ha). They were thrilled to received their bookmarks and wanted to know how they were made and if they could give it a try. Luckily, I had filmed the whole process (video below) but as for getting 15 ladies to do a Gelli print artwork, it would have been difficult due to the Gelli Plates themselves, the space needed and drying times in between layers. Definitely one kind of art that is better done solo.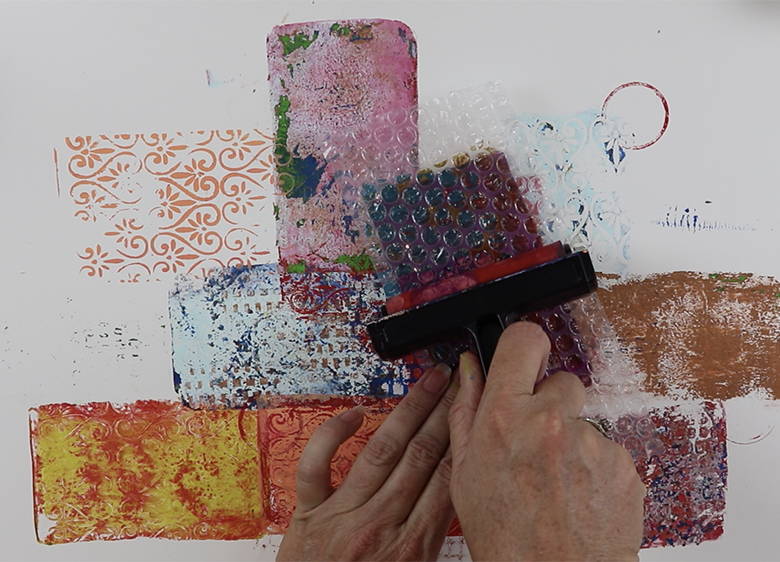 Let's start with the Gelli print!
I began with an A2 size sheet of white card, approximately 250gsm in weight (business card thickness) and my box of assorted brands and colours of acrylic paint, acrylic free flow and even some acrylic/gouache. My only Gelli plate is a 3"x5" so I knew it was going to take a while but gosh I had fun! Filling the whole sheet of paper probably took close to 2 hours due to drying paint on the plate. This is part of the process you don't see in the video. I used a variety of stencils and some bubble wrap to create different textures.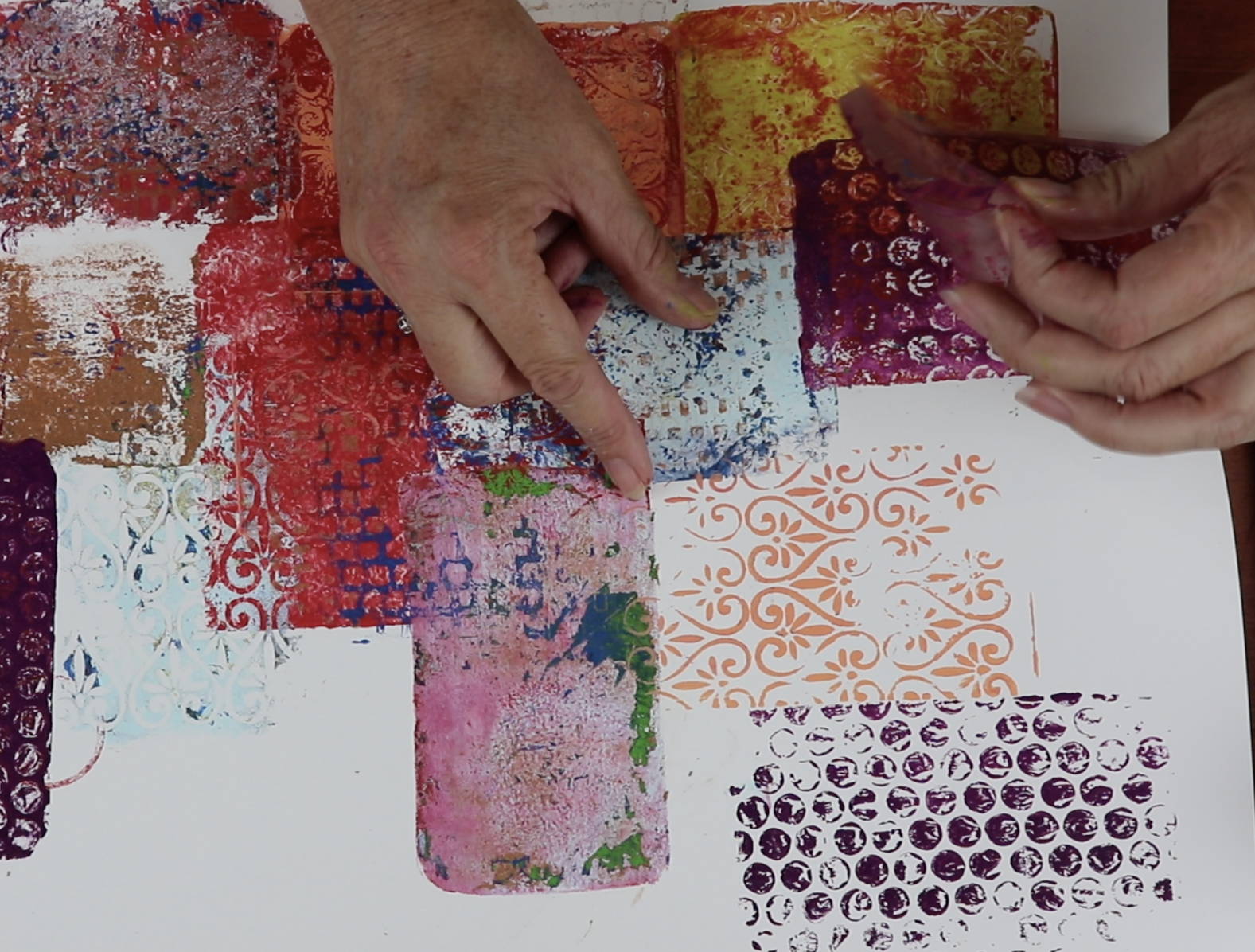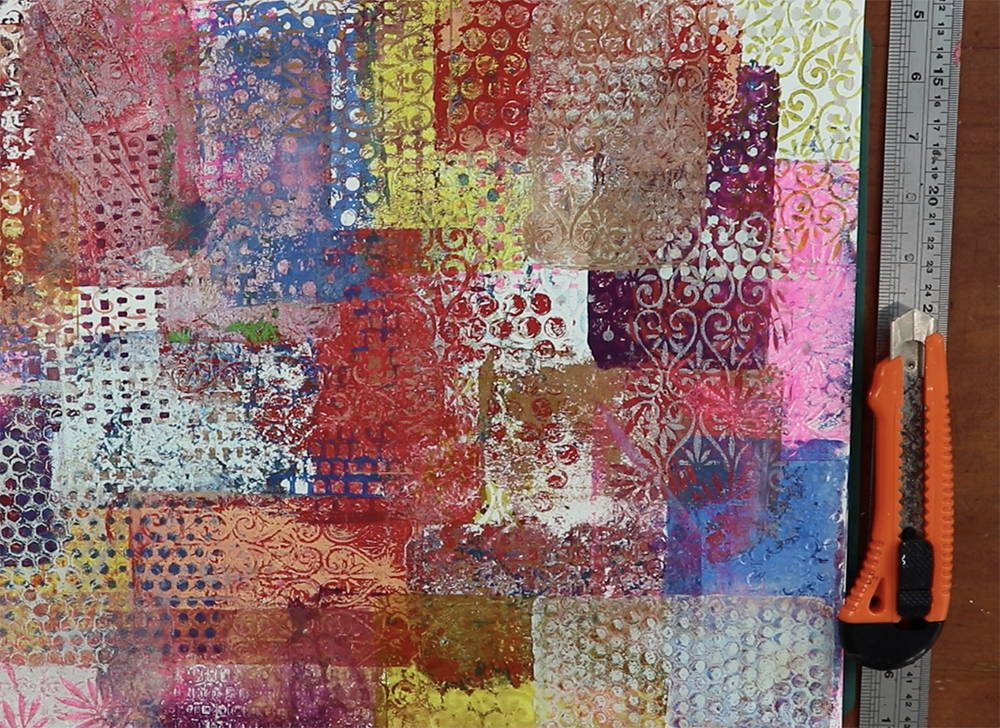 Once the sheet was filled it was time to cut the bookmarks out and get ready to start doodling! The pens I used was a 3M Posca pen and the Sakura Glaze Gel pen. The gel pen glides on beautifully but it is a thick nib, and the gel ink comes out quickly, so I had to work quickly. I have the Posca pens in stock but not the Sakura Glaze currently, but I will add them to the store as I loved using this pen. Both pens worked really well over the top of the Gelli printed surface. Doodling is my 'jam', so I didn't struggle to come up with patterns for each card. There was probably another hour in doing the doodling.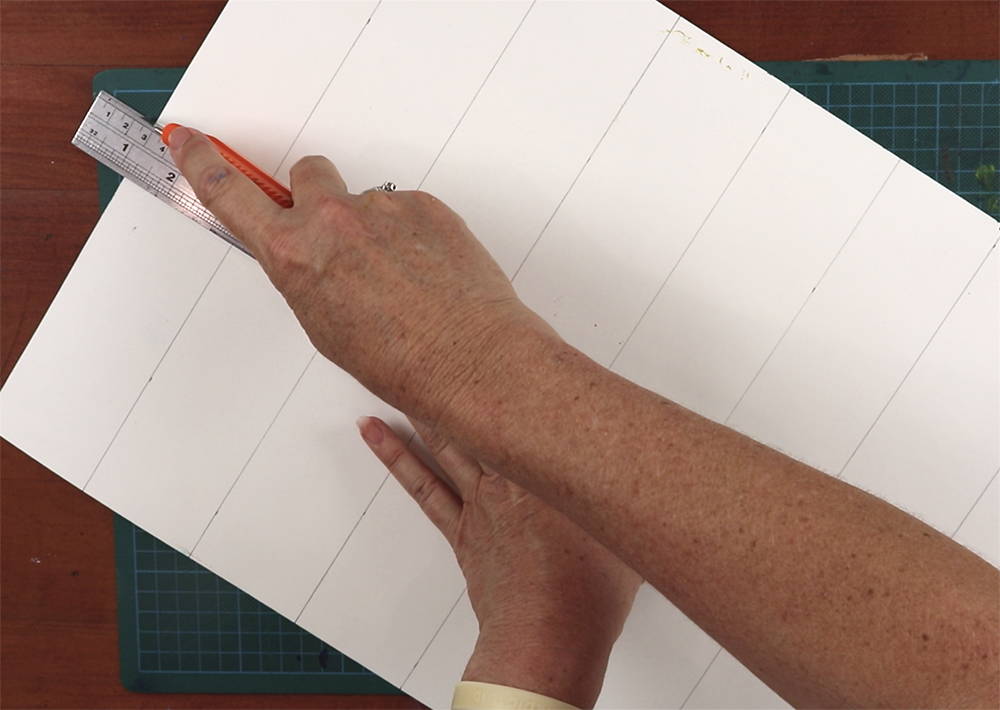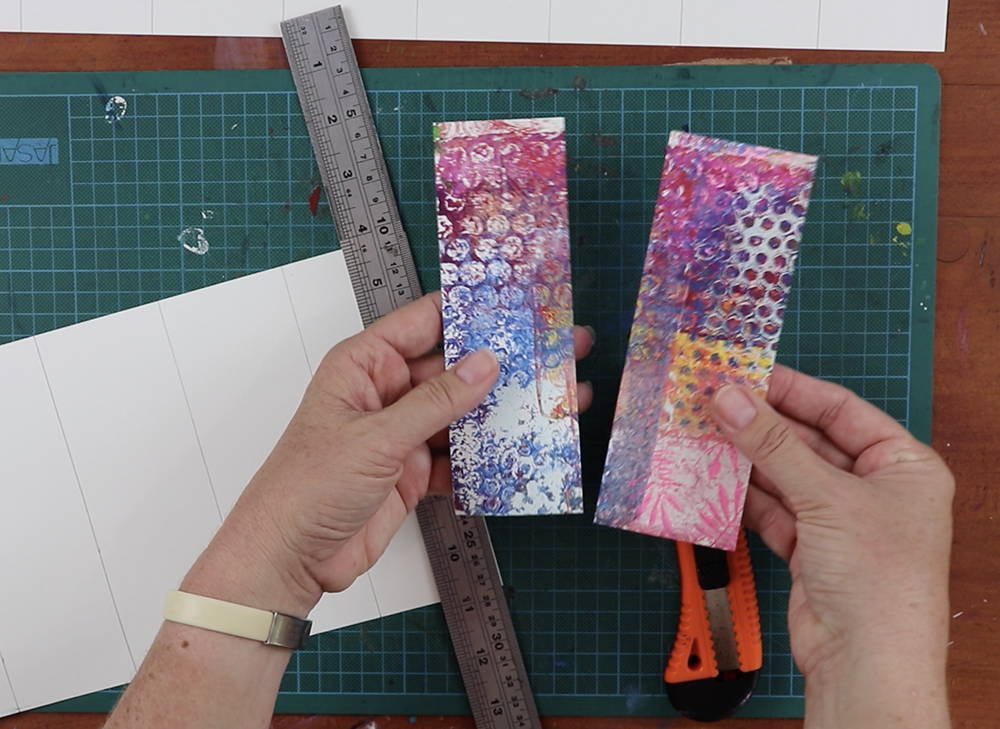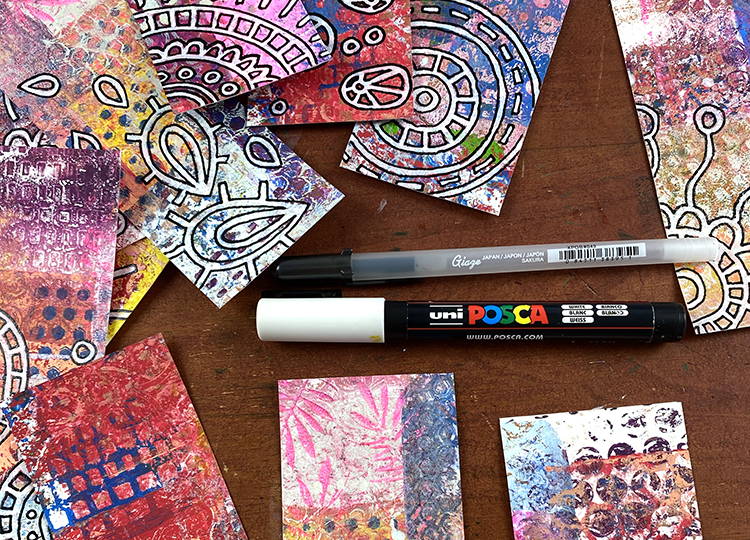 The finishing touches to turn them into bookmarks!
Laminating the cards to give them extra strength was definitely do-able however I chose not to, mainly because of the black gel pen having a high gloss finish and it would have been lost under the laminating.
Then all that was left to do was hole punch the bookmarks and thread a tassel through them. I bought packs of 4 black tassels from Spotlight. All in all, the project took between 3-4 hours to complete and I loved the process so stay tuned, I might make some more to hand out!
Please enjoy watching the 12 minute video of the bookmarks coming together. Gelli printing is a great way of using up acrylic paints that you have lying around as well as different types of paper and card. And the benefits from the process for your mind and soul are priceless!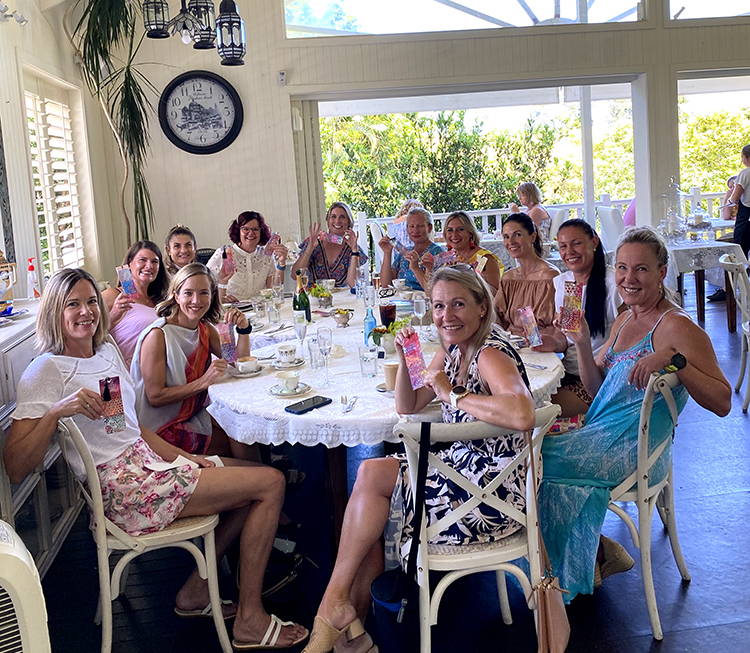 Meet the recipients! Here are 12 of the 15 of us gal pals who now all have a Gelli printed and doodling bookmark for their books that we all read.
We only started this club at the beginning of the year and most of us see each other 2-3 times per week as we all ocean swim together. Currently, we are on our second book and looking forward to the catch up to discuss Grown Ups, by Marian Keyes.
Feeling creative yourself?
If you enjoy your art but feel you lack inspiration or need someone to push you along, please check out Mrs Red's Online Art Classes. They are monthly projects, for ages 6 – 106 and everyone receives a workbook and art supply list at beginning of month, along with videos to watch, art skill exercises to do, a finished project to complete and two LIVE Zoom calls with Mrs Red to track your progression. You don't have to be in Australia to do the online art classes either. Mrs Red can cater to everyone and will create a better time for students in opposite time zones to Queensland, Australia.