Which watercolour marker pens should I use?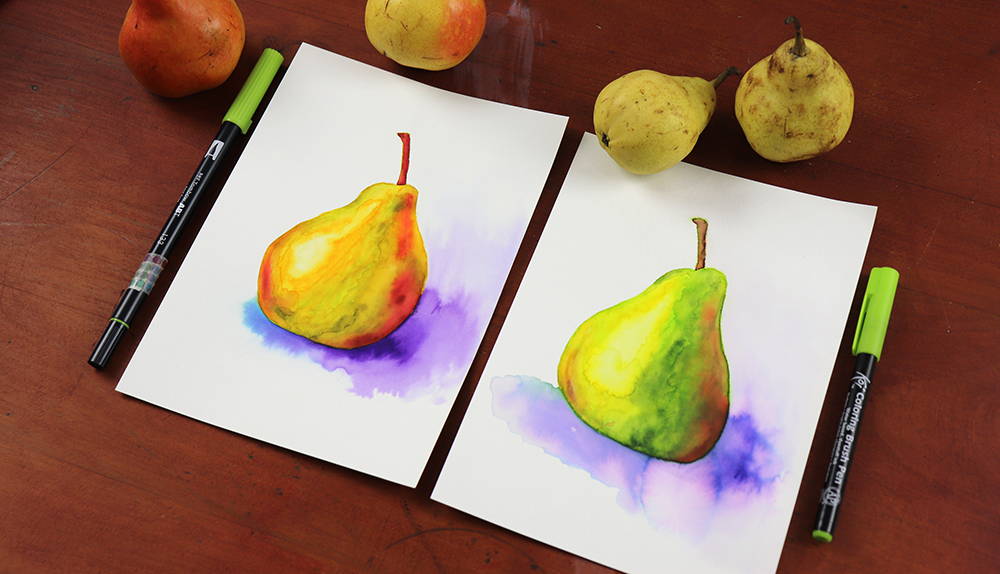 Compare the Pear is where Mrs Red takes 2 similar art products, does 2 pear drawings or paintings, using the 2 products individually and then you can compare the differences! Neither product has been given to Mrs Red by the Supplier or Brand, so the comparison is honest and aimed to help you make decisions about which brand to go with. 
This Compare the Pear challenge see's Tombow Dual Tip Brush Pens going up against Koi Brush Pens. Both are water soluble; both have a brush nib but only Tombow has dual nibs, the other being a fine point nib. I did not use the fine nib in the artwork at all but have used it plenty of times when using these pens on other artworks. This article should help you determine which watercolour marker pens you should try!
The intention behind Compare the Pear is to compare the products and colour choice will always be similar but I haven't tried to match colours for colours.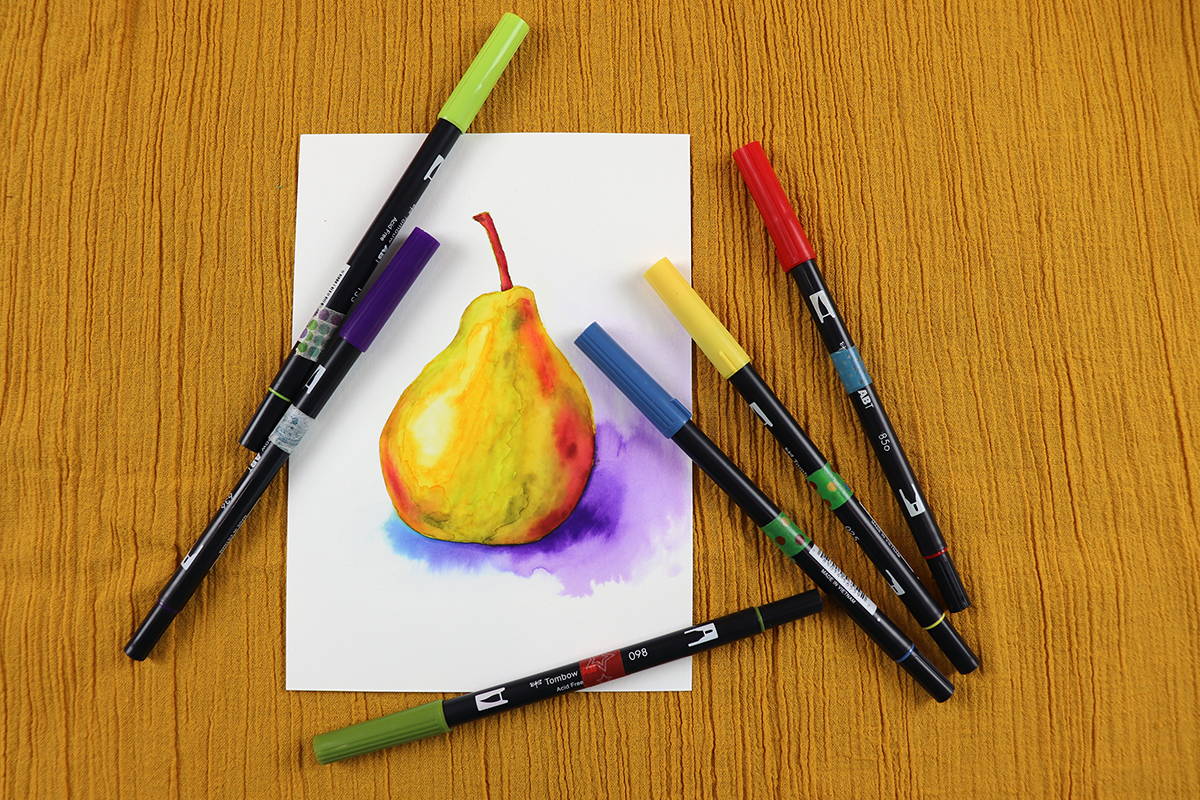 Tombow Dual Tip watercolour marker pens are made by Tombow Pencil Company in Japan with 2 other international factories in Thailand & Vietnam, where the Dual Brush pen is made.

The Tombow Dual Tip pen colours that were used are: 
- 025 Light Orange 
- 098 Avocado 
- 133 Chartreuse 
- 528 Navy Blue 
- 636 Imperial Purple 
- 856 Chinese Red 

Koi Brush watercolour marker pens are made by Sakura in Osaka, Japan.
The Koi Brush pen colours that were used are: 
- Yellow 
- Yellow Green 
- Sap Green 
- Steel Blue 
- Purple 
- Red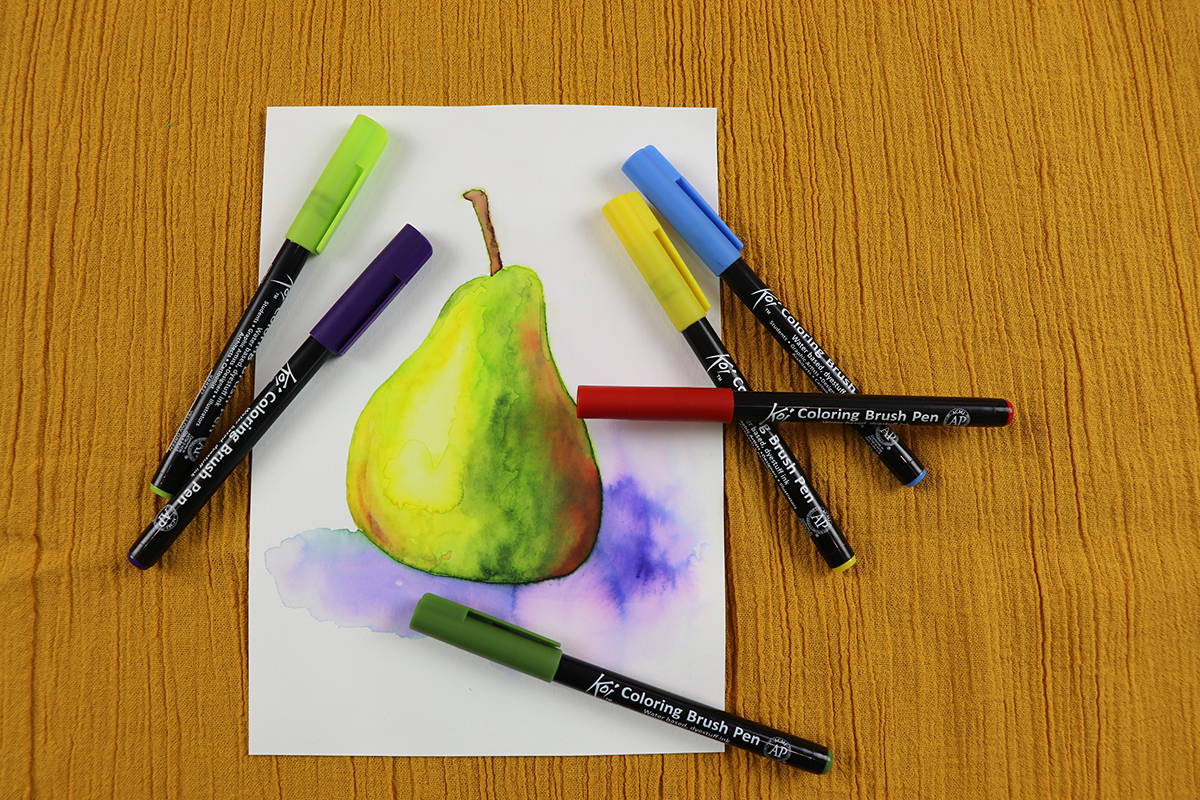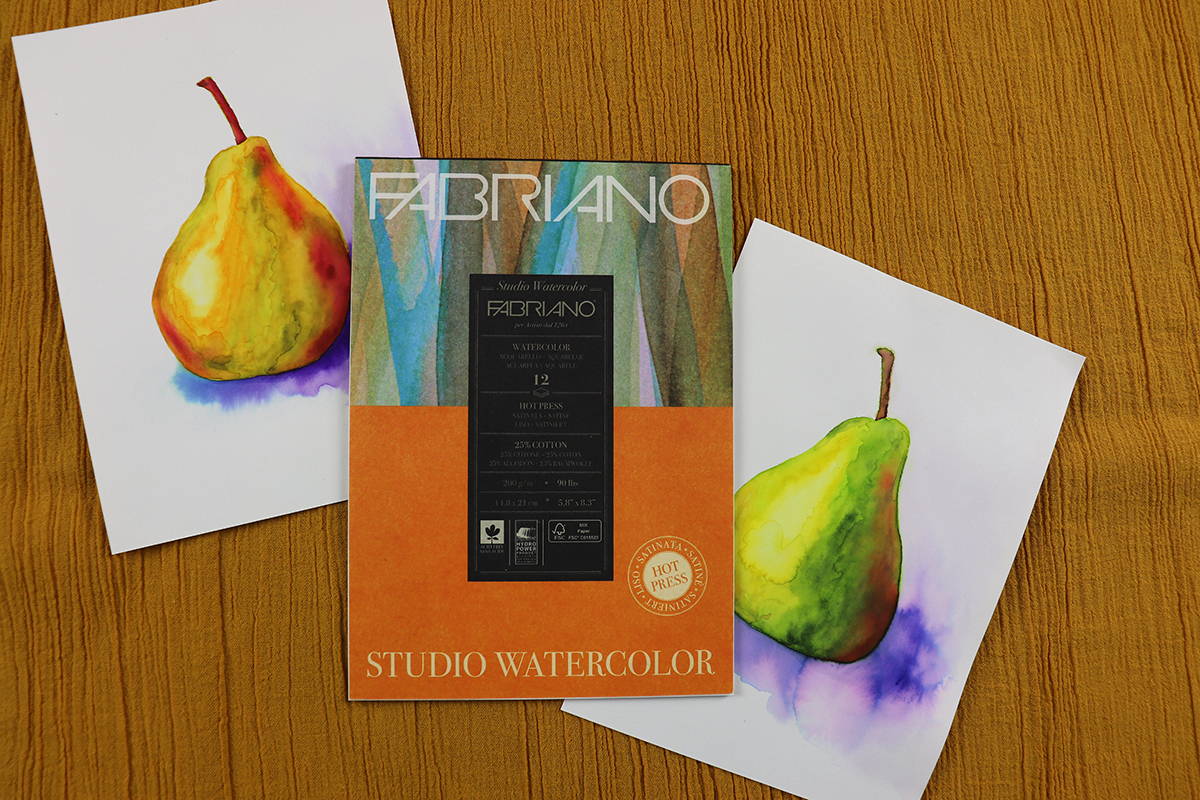 The paper that has been used for both watercolour marker pen paintings is Fabriano Hot Press Watercolour paper, 200gsm. This is a quality student grade paper that Mrs Red has used a lot over the past couple of years for all kinds of mixed media projects.
What I was looking for in comparing the two different types of watercolour marker pens, was ease of putting the colour down, turning the applied colour into watercolour and could the colours blend easily and nicely over the top of a colour that had already had water applied to it. Also, smaller details like how easily the pen was to use when water was applied, did it blend easily, or did I have to use extra water? It's important to note, that with any type of marker pen, regardless if it is water soluble or not, to never put the nib directly into water. You will drown the nib and a lot of pens will give up working all together if this happens. I once let one of the Koi pens hit a water puddle and I thought I had ruined the pen, but it did come back to full use eventually – phew!
As you will see in the video, I went from the Tombow watercolour marker pen painting to the Koi painting, after each layer of colour had been applied. This gave enough drying time between each layer and I never really had to wait to start the next layer. Again, important to note, you cannot put a pen down on a wet surface. Each pear had 4 layers of colour, starting with yellows and ending with reds, which added a 5th colour of brown, because green and red are not friends at blending together. I wanted brown to be made so this was part of the layering process. Also, given no white watercolour marker pen was used to provide highlights, I had to be aware of this in the initial stages of the painting.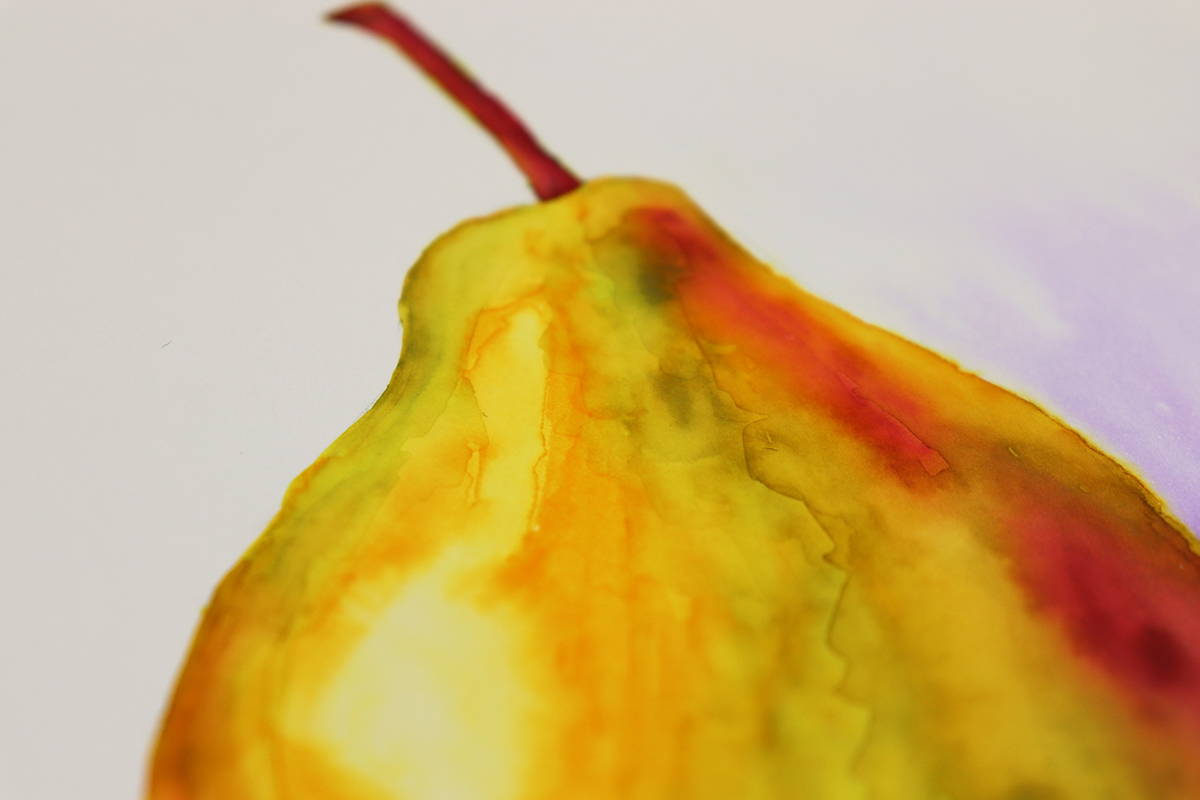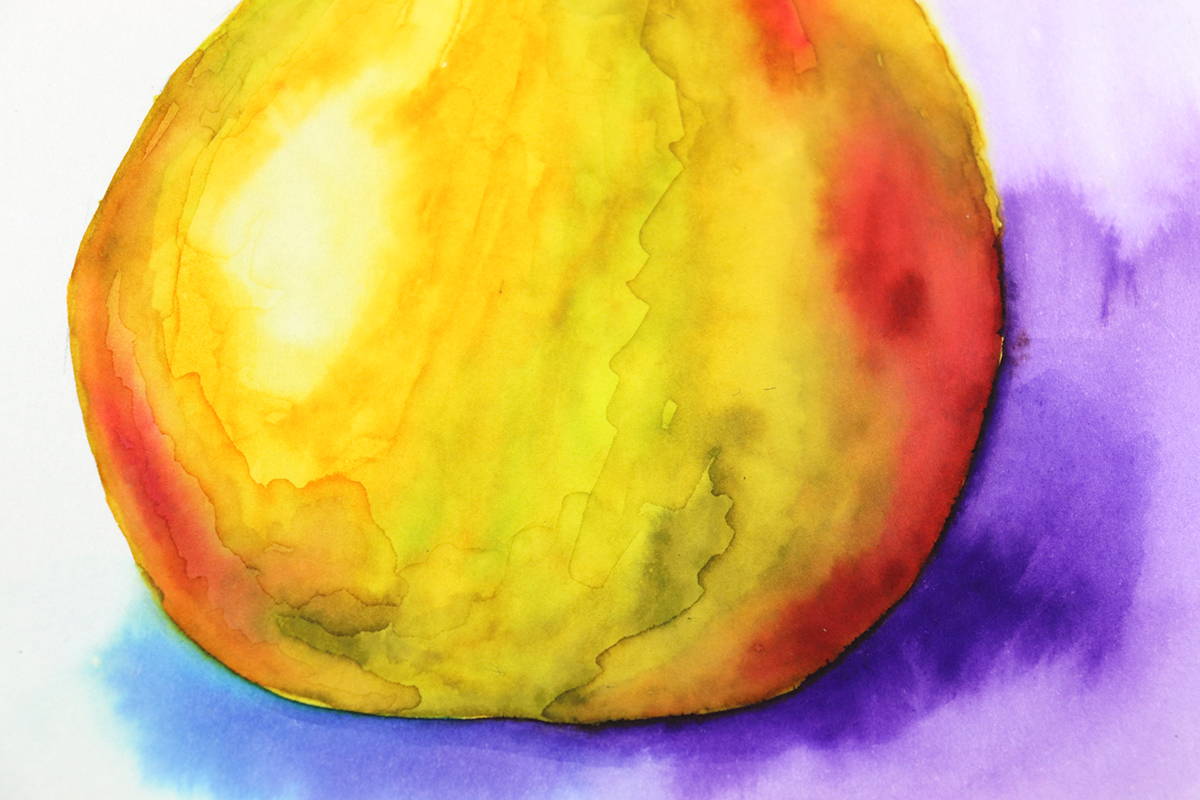 Each layer went down very smoothly and easily and I was able to scatter the colour around with the water brush spreading it to where I wanted it to go. 
All colours blended well on top of each other colour and didn't appear to lift and move a layer that had already dried. The water marks of the Tombow watercolour marker pens were soft with at least 50% of them creating water lines rather than smoothly blending. 
It was always meant to look like a watercolour painting, so this had definitely been achieved. 
I loved the way the pear came out and I love how the colours I chose all blended well together and I didn't get any muddy areas of built up colour. I probably would have liked to let the blue pen around base spread out a little more, but I didn't want to stuff things up when I had come so far. 
I'm sure I am not alone in being like this with artworks when they are nearing the finishing stage!
Again, each layer went down smoothly with the watercolour marker pens and blending was never a problem either. 
I felt the Koi watercolour marker pens came together more smoothly, with not as many water lines in the artwork. 
Colour control when blending was perhaps a little more difficult to control, as you can see in the base area with the blue and purple. 
And because this artwork didn't require lots of fine lines, I didn't miss having a finer nib attached to the pen, like the Tombow Dual Tip watercolour marker pens. 
Again, I was really happy with the colours I had chosen to work with and felt they worked nicely together.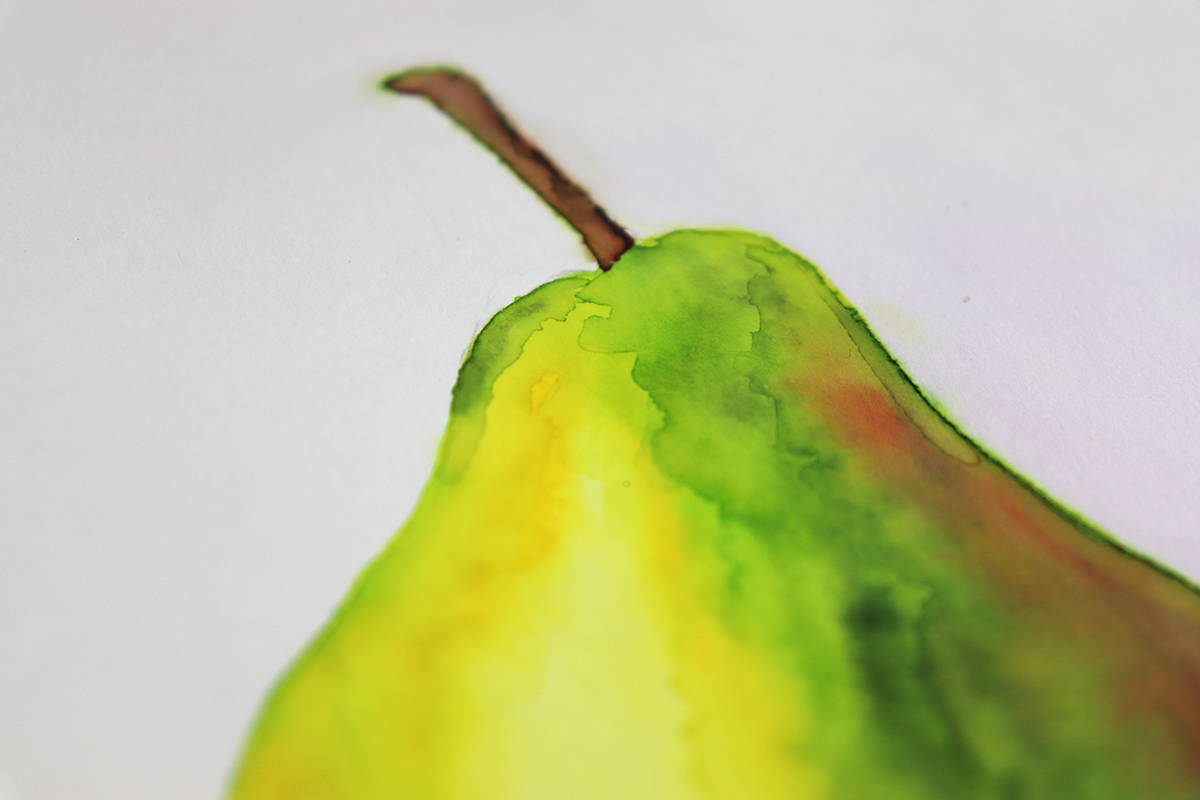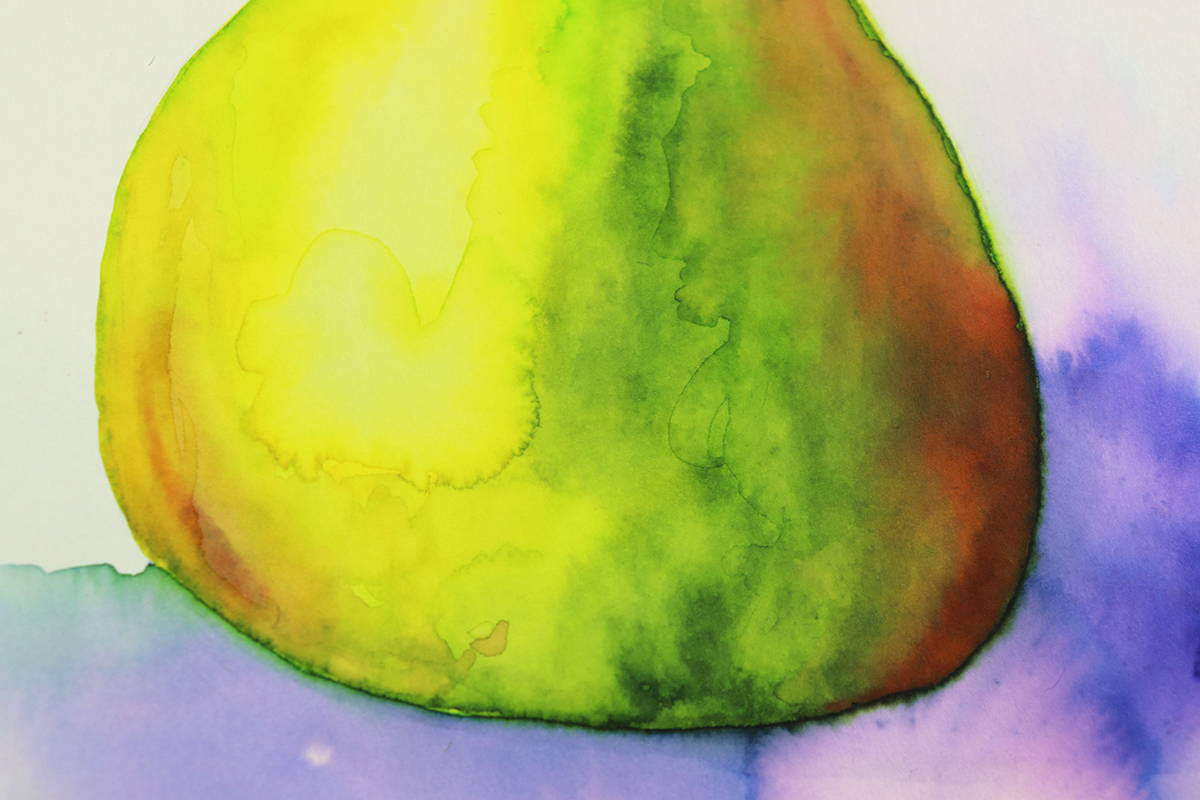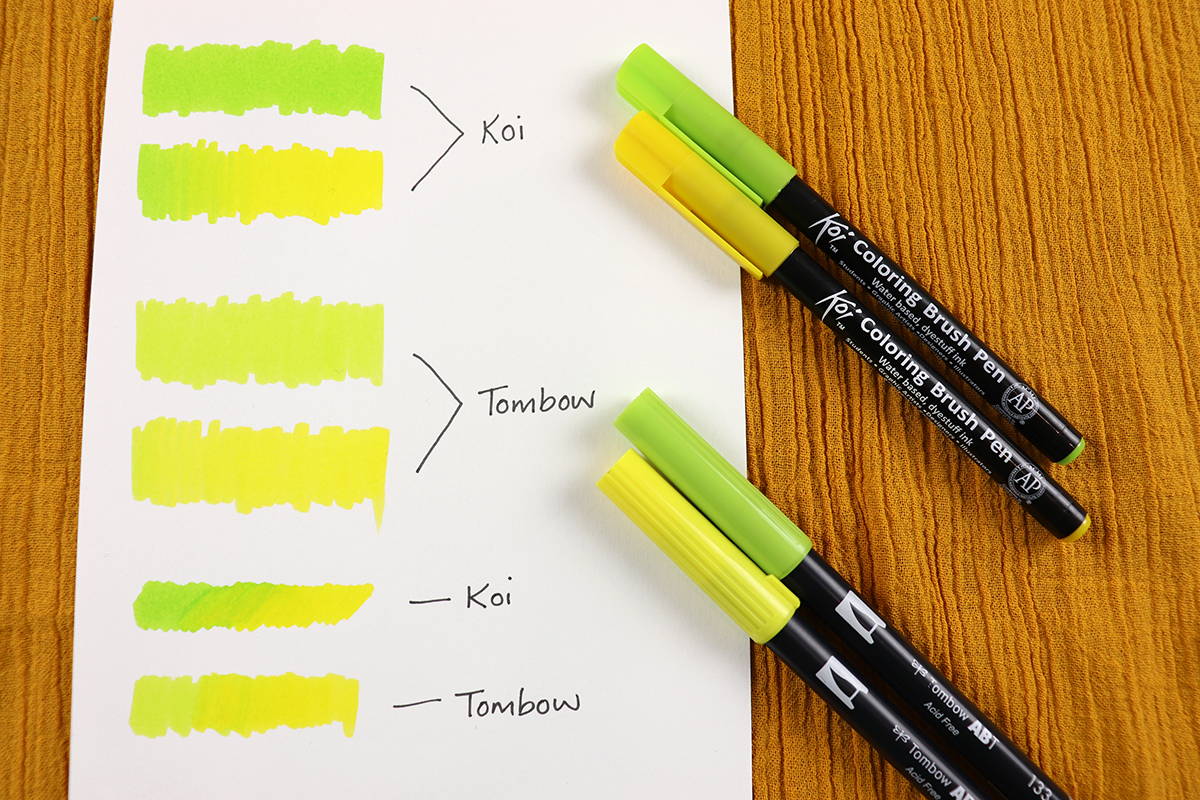 Another quick test I did, was holding two nibs together so that the colours would bleed into the other. I held them together for 20 seconds and as you can see by the result, the Koi watercolour marker pen went further in the mixed colour test than the Tombow. Although both only worked on the lighter colour pen. 
The bottom 2 scales was putting the green marker down first followed by the yellow and allowing the blend to happen on the paper.
Both have self-cleaning nibs which is also a great thing. One thing I did not test was the longevity of any one marker.
So, which water colour marker pen should you choose?
Price wise, the Tombow's are twice the price of the Koi and have twice the amount of colours. There are 108 in the Tombow range and 48 in Koi range. So, with a much larger colour range and the choice of a brush nib or point nib, you are getting a lot more pen for your dollar, but it all comes down to budget in the end. If you do use a lot of coloured drawing pens, then my recommendation would be to have a few of both, as they both do the same thing and in the two artworks of the pears, the comparison is extremely close and if you didn't know which was which it would be very hard to tell. Both watercolour marker pen brands performed very well. 
Mrs Red's online art supply store stocks both watercolour marker pens. Simply click here to go straight to the store and have a look at the range!
And please make sure you watch the YouTube video below, to watch the two watercolour marker pen pear paintings come together. If you have any questions, please comment below and if you have a suggestion for Compare the Pear, please let me know via create@mrsreds.com.au as I would love to compare art materials that you want compared. 
I hope that I have helped in your decisions of either of these water colour marker pens and sorry that I couldn't lean either way, they are both great pens!
Mrs Red 
x