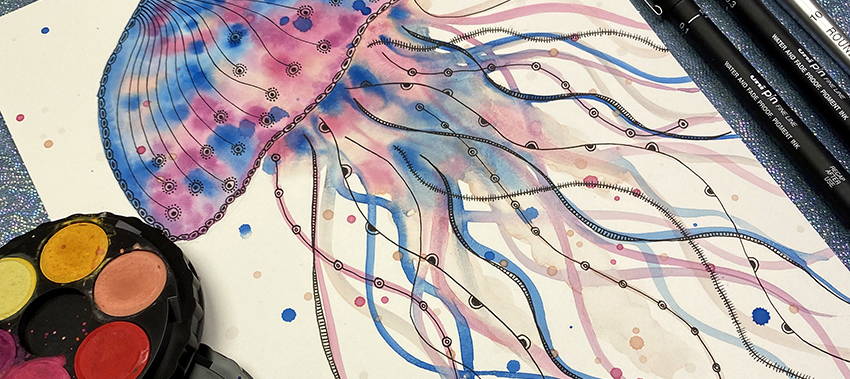 Paint and Sip parties are BIG right now in Australia and as an art teacher I couldn't be happier to know that people who do not consider themselves to have an artistic bone in their body would have attended and had an absolute laugh at an art party for adults!
Back when I, Mrs Red had a local art room here on the Gold Coast, we hosted 4 years of Wine & Untangle which is exactly that, an art party for adults. I would teach everyone how to start their artwork with watercolours and once dried show them all the doodling opportunities to finish their artwork with. Most nights I would have around 40 adults joining in and all of them leaving the art room thanking me for such an amazing experience.
The funny thing was, what I was teaching was very easy but until you sit down and do something like a watercolour painting. The feeling was that of being taken away to another world, a world where family could not invade your space, your struggles at work were finally not top of mind, your relationships with partners could wait another day. And many of my customers would thank me on leaving and ask when they step outside the door, was reality going to slap them in the face again. Well, yes it would but these customers knew they could come again and get their fix before stepping back into reality again.
Brain chemicals start exploding!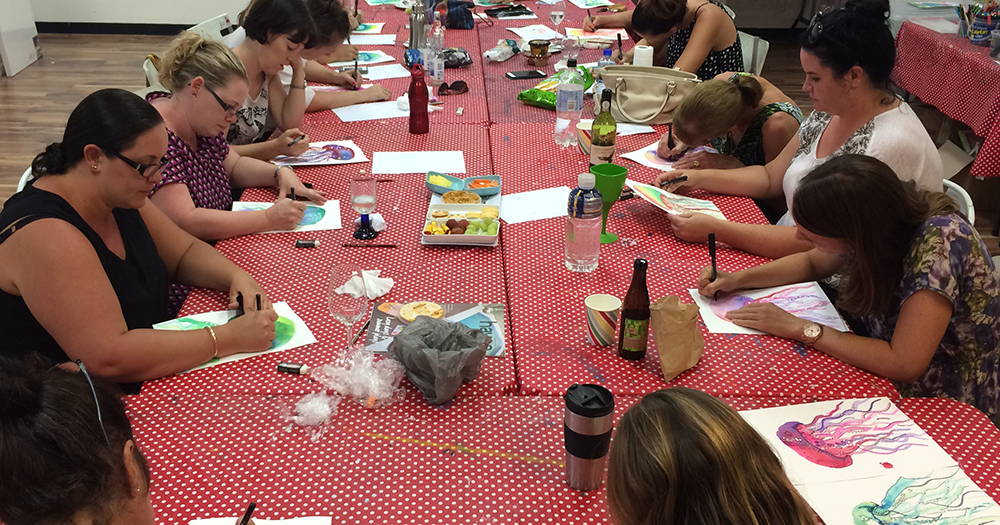 What was happening to my customers had nothing really to do with me at all. I never made someone come along to an adult art party! What happens if the brain started releasing chemicals like serotonin and dopamine and when my customers would leave (around 2 hours later) their buckets were full! The brain chemicals had done their thing and these people left feeling satisfied and like they could return to normal life, and they could deal with the pressure's life threw us.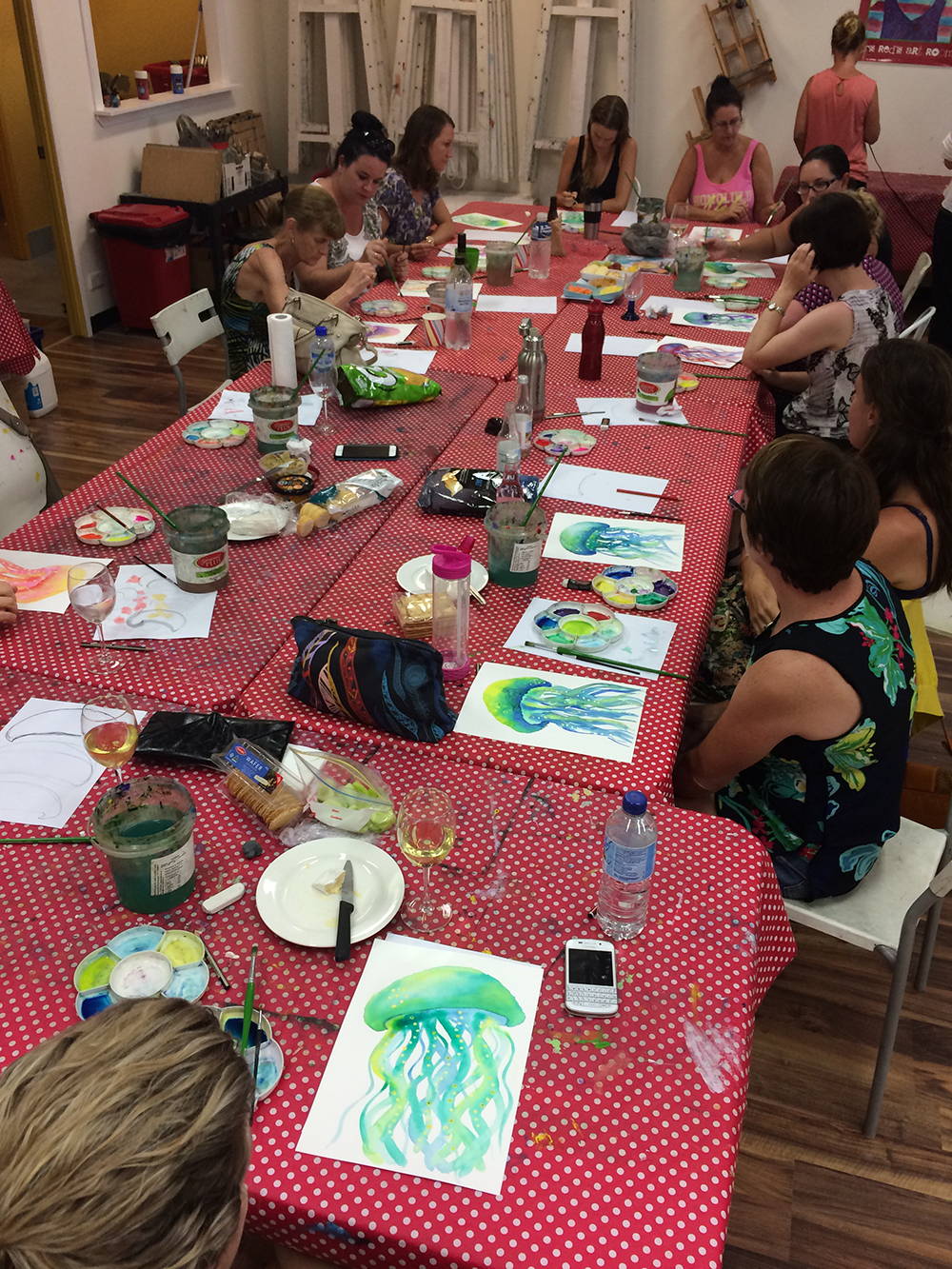 Wine & Untangle (W&U) was born in 2012 and to read the story of how it began you can click on this blog I wrote. As the name Wine & Untangle suggests, it is for adults to come together for an art party. Do you have to drink wine? Absolutely not, have a g&t if you prefer, just joking, you drink what you like, knowing full well the dangers of dipping your paint brush into your glass. It's happened to us all, young and old!
Adult art parties, also known as Paint'n'Sips were not really a thing in Australia when I started Wine & Untangle, so it was very much a locals art party here on the Gold Coast. However, over in the States it was BIG with businesses popping up all over America with the sheer focus of being a painting party. What has set W&U apart is that Mrs Red chose to use watercolour and black drawing pens as the medium of choice, over canvas and acrylics. And fortunately, this has remained the case, almost 10 years on. When it comes to art teaching, Mrs Red knows how to dabble in all kinds of paints, pencils, pens, printmaking, collage etc. but we all have our favourites and watercolour and doodling are at the top of my list, along with the simple old graphite pencil.
Fast forward to February 2022 and don't we live in a different world! Is there anyone on this planet who doesn't know what a Zoom call is? I would imagine not. And given the Mrs Red's art room became solely an online business in 2017, the Coronavirus Pandemic has helped online businesses be thrust into the spotlight and we would be mad not to use this to our advantage. And after working out a few little logistics, Mrs Red has now made Wine & Untangle an online art party for adults! As always, there is one theme per month and a few dates you can choose from. However, as before, you paid and turned up for one art party, you can now join every date in that month if you wish to.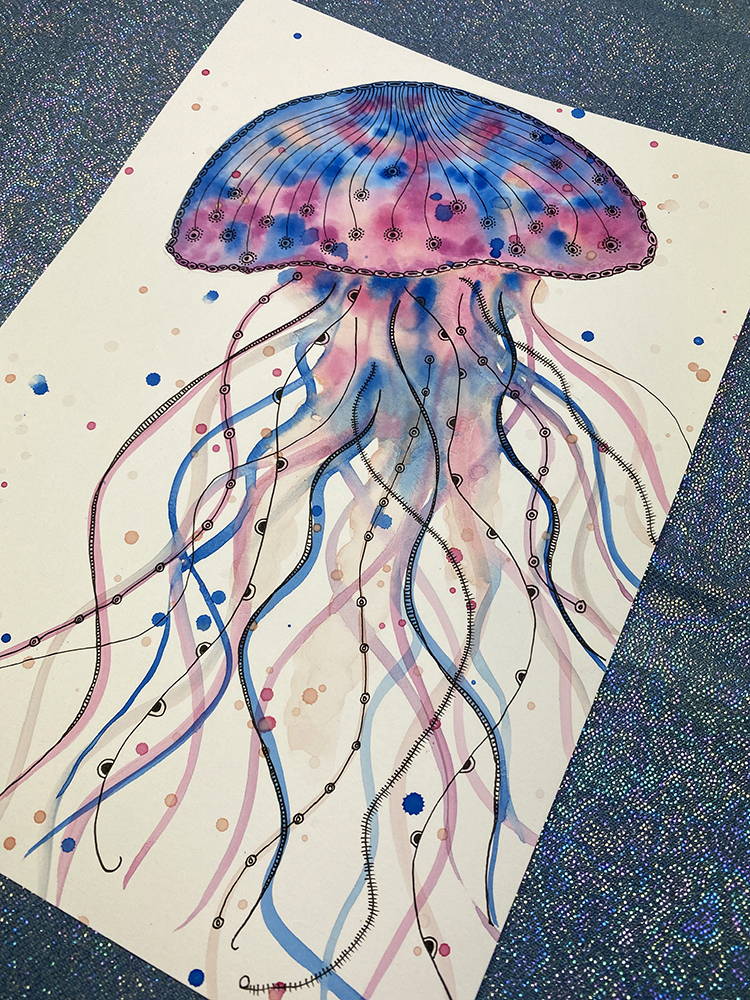 February we are celebrating the most popular W&U we have ever done, the simple and angelic Jellyfish. If you have never attended an adult's art party before then this is perfect for you. Mrs Red guides you through step by step and shows you short video's which can be viewed multiple times during the 2-hour online art class. It is a LIVE art class, not a pre-recorded event. Of course, I want you to keep your cameras on, if for nothing else than to see how you are going with your painting. For privacy, I don't mind if you write your initials or full name. No recording will be done in the LIVE art classes, but I do want to create the art party feel so hoping everyone feels comfortable enough to chitter chatter throughout the event.
What are supplies do I need?
If you were thinking that you would like to join one of the Wine & Untangles (adult art parties) but you don't have any paints or pens, then Mrs Red has thought of that as well. You can purchase the W&U Art Cart from Mrs Red's if you live in Australia or New Zealand. If you live anywhere else in the world, please contact Mrs Red via the chat button which should appear bottom right of screen and the one and only Mrs Red will get back to you. This message is not sent to a tele business, it is sent straight to Mrs Red's phone. If I don't answer back fairly quickly, chances are it is the middle of the night, here in Queensland, Australia.
And with that all said, click on this link to book yourself into February's Jellyfish art class as I am really looking forward to running these adult art party events again. They will be every month of the year and you don't have to leave home to attend, how good is that! Please spread the word and I look forward to seeing you in the Online Art Room!
Mrs Red
x